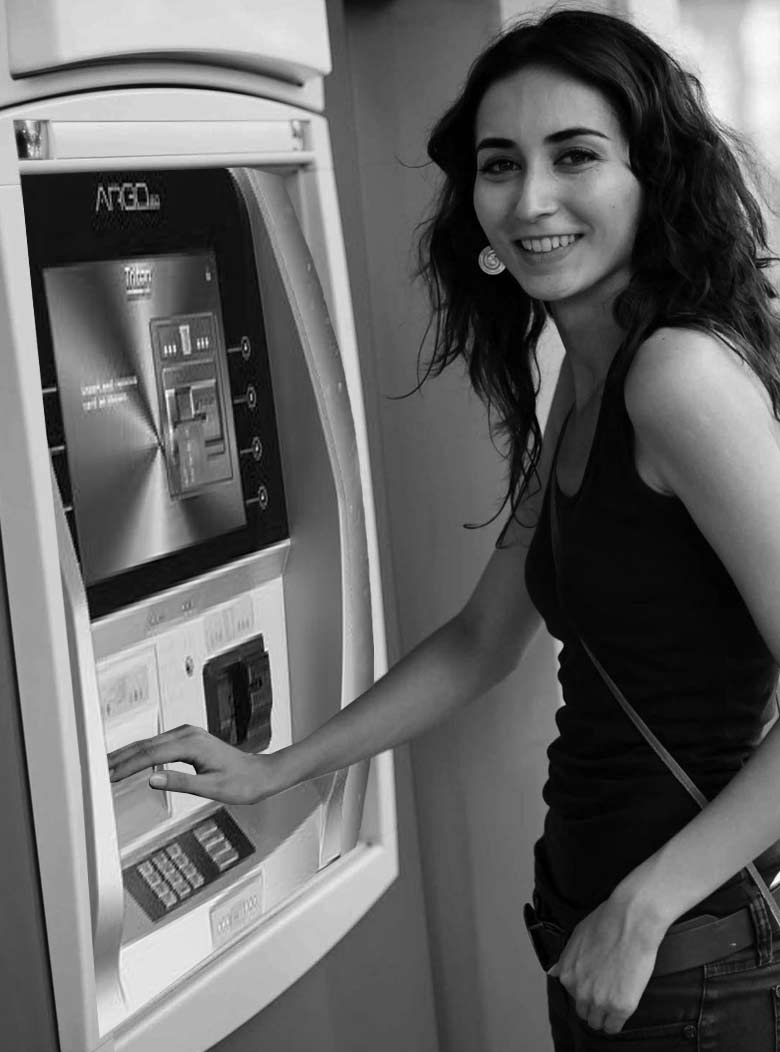 ILP ATM - Ontario ATM Supplier Serving Canada Coast To Coast
---
ILP is renowned in the Automated Teller Machine industry for our reliable ATM machines. This combined with our reputation of trustworthy and knowledgeable service will assure you of many years of trouble free ATM operation. Our pledge of excellence and our unbeatable pricing are your guarantee that you will get the best ATM deal possible.
We sell and service ATM's in Eastern Ontario, covering Ottawa, Brockville, Belleville, Kingston, Kemptville, Cornwall Peterborough, and the smaller towns such as Morrisburg, Lancaster, Alexandria, Arnprior, Gananoque, Perth, Renfrew and Smiths Falls to name but a few.
Nav Canada has utilized the services of International Leisure Products (Banking Machine) for the last year and a half. The service has been excellent and the cheques are delivered to us on a regular basis.

We recommend International Leisure Products to any other company who may require the installation of a Banking Machine at their place of work.

Please do not hesitate to contact me if you have any questions.

We acknowledge that we have been using the service of an Automatic Banking Machine from International Leisure Products for approximately 1 year. We are quite pleased with their service and the documentation we receive is always accurate and accounted for each month.

We have never encountered systems issues and the representative for the company is always pleasant and eager to assist us in any way. Our recommendation for this company comes very highly.

Please feel free to contact us should you require any further information.

This is just to let you know that Marc Bigras from International Leisure Products has provided excellent customer service since obtaining our ATM machine.

If a problem ever occurred we can count on Marc for a prompt and courteous approach to handle it. It is nice to see that we can still expect that kind of service.

Any questions, please call.

I wanted to take this opportunity to thank you personally for providing the Presidents Cup 2007 with outstanding ATM service during this year's tournament. Your company went beyond our expectations in terms of service and quality.

From the very beginning, your staff has been helpful, informative but most of all, professional. It was a pleasure working with Hector and Marc, we could not have asked for better service. Your services are highly recommended.

We thank you once again and wish you the best of luck in your future endeavors.

Over the past year, International Leisure Products has installed an ATM machine at the Air Terminal Building of the Kingston (Norman Rogers) Airport.

Having the ATM at the airport has proved to be an invaluable asset and great amenity for passengers and staff alike. The convenience and easy accessibility to funds is one less worry for passengers travelling to and from their communities.

From out perspective, the service is great and the staff is personable and easy to deal with.

I would not hesitate to recommend International Leisure Products as the solution to your banking needs. Please do not hesitate to contact me at (613) 389-6404 extension 4, or via email at sdesilva@cityofkingston.ca.

Giant Tiger (Cornwall) has been using an International Leisure Products banking machine for the last 12 months. The service has been excellent from the part of the store and our satisfied customers.

We would recommend the services of International Leisure Products to any other company looking for banking services.

We had International Leisure Products install and ATM machine at our Cornwall location for our opening in June of 2005. This machine has been invaluable to our customers and allows them to stay on our premises and therefore spend more money at our location.

Our customers really enjoy the convenience and our setup allows our staff to be hands-off, leaving them to concentrate on the jobs that I need them for.

The service we have received from I.L.P. has been impeccable and I have even purchased other products from them because of it. I do not hesitate to recommend I.L.P. for your ATM or other needs.

---
Increase Sales
Did you know that by offering the convenience of an ATM at your premises, you can increase your sales? Enjoy more business by having one of our reliable and dependable ATM's at your business location. Relax, knowing your customers will have access to their money to make purchases at your business.

---
Wide Service Area
Although ILP services all of Canada for parts and accessories for automated teller machines, our main focus is on Eastern Ontario. WE provide ATM machines for small to large businesses. ILP ATM is your source for ATM machines for your business. We provide ATM machines for small grocery stores to huge shopping malls.

---
Customer Service
International Leisure Products (ILP) is proud of its excellent customer service and superior knowledge in the ATM sales and service field in Eastern Ontario. ILP is your number one provider in Automated Teller Machines for your small to large businesses. We sell and service all of our ATM products.

---
Guarantee
Our guarantee is not only to meet but to beat any bona fide written ATM proposal you may have and combine that with the optimum service our customers are accustomed to and expect from their ATM supplier. Given the opportunity, we can make a satisfied ATM owner out of you.
Quality + Service + Price = Value
While shopping for an ATM it is imperative that you look at all the factors some suppliers will try to persuade you that they can beat any price and some can, but of course that will come with some trade-off. Believe me no one is in business to lose money so as a consumer you must ask yourself what is a good deal. At ILP we believe you need to look at all the elements in order to determine the value of all pricing.
---
Quality
When it comes to purchasing an ATM quality should be the largest deciding factor. The equipment must be reliable after all you are going to dispense cash. In the event that it should break down you will lose transaction revenues as well as retail sales from regular customers who depend on that ATM, not to mention the aggravation to you and your client when you see him having to go to yet another merchant to get his needed cash. Odds are he may not be back.
---
Service
Equally as important as quality is service, it is a well known fact that sooner or later there will come a time where as reliable as your equipment may be it will require service. At that point it would be comforting to know that factory certified technicians combined with quality parts can get you back on your feet in a timely manner and provide you with many years of trouble free operation.
---
Price
Certainly price is a big consideration in your decision, the fact is you purchase an ATM to generate additional revenues as well as offering your clients the added services, and because your return on investment is directly impacted by the purchase price we too often let this be the only deciding factor, although as the old saying goes (you can pay me now or you can pay me later). Overall value depends on quality and dependability of both the equipment and independent service provider you choose.
---
Value
ILP believes value to be a combination of the most reliable equipment along with timely service from reputable factory certified technicians and pricing that makes our competitors squirm at the very thought. Let us show you how to make the very best deal possible and keep you smiling for years to come.